Top 6 Beverages to Cure PCOS Naturally
More than 20% of women in India suffer from PCOS (Polycystic Ovarian Syndrome) at childbearing age. It is a hormonal disorder that causes lesser secretion of estrogen and over secretion of male hormones. This hormonal imbalance results in irregular periods, pregnancy complications, bald patches, excessive hair on the face and body, mood swings, unnecessary weight gain etc. There is no particular cause for this hormonal caricature. It might be a genetic issue; for some, it might be roadside momos and french fries. Some women suffer from PCOS even after pregnancy, even while breastfeeding. However, PCOS is an entirely curable situation. There are a lot of home remedies, detox waters, and supplements that you can try for PCOS.  
How do I detox with PCOS? 
Before going into details, let's discuss what a detox drink is. A detox drink is a beverage that contains water, fruits, veggies, herbs, and natural ayurvedic elements that flush the toxins from your body and boost your immune system naturally. Detox drinks can be served in the form of juice or herbal teas. However, detox drinks in PCOS help cleanse hormonal acne and regulate insulin secretion. In this article, we will discuss a couple of herbal teas and detox drinks that help ease PCOS symptoms: 
Which tea is good for PCOS? 
Here are some herbal teas that will help reduce PCOS symptoms: 
Chamomile tea: 
Though chamomile tea is popular for calming nerves and treating insomnia, it is also a beneficial herb for people suffering from PCOS. Chamomile is an herb that comes from daisy-like flowers. For centuries chamomile has been dried and infused with hot water to treat several health conditions. Most of you must be unaware that PCOS can also trigger anxiety and depression. Chamomile can reduce those issues with its relaxing and calming effect. PCOS can also cause mood swings and interfere with your daily schedule. This herbal tea will help you assist in the course of emotional mood swings. To make a cup of steaming Chamomile tea, boil the water and turn off the heat. Add the dried herb and cover it for 5 minutes. Strain the tea and add 1 tsp of organic honey before drinking. 
Ashwagandha tea: 
Ashwagandha is considered one of the magic herbs because of its multitasking properties. From regulating your sleep cycle to increasing your libido, this Indian herb has got your back all the time. Ashwagandha is also called Indian Ginseng or winter cherry. Stress can be your biggest enemy for women with PCOS because it triggers cortisol (stress hormone) secretion, which can hinder estrogen secretion. Ashwagandha tea helps reduce stress hormones and improves dopamine (happy hormone) secretion in the body. There are several ways to have this herb. First, you can put 1 tsp of the herb in a mug of boiling water. Let the mixture boil for at least 10-15 minutes. Strain and squeeze some lemon juice before drinking. Even if you are not a tea fan, PCOS supplements contain Ashwagandha, like andMe's PCOS drink. This plant-based drink contains natural herbs like Ashwagandha, Lodhra, and Garcinia that ease PCOS symptoms without leaving any side effects on your health.   
Cinnamon tea: 
This herbal tea is especially recommended for people who are trying to get pregnant with PCOS. Cinnamon is an herb that improves fertility in women by addressing uterine fibroids, weight loss, and menstrual flow regulation. This herbal tea also helps improve heart health, inflammation, and blood sugar levels. The easiest way to make cinnamon tea is by mixing one tsp of ground cinnamon in boiling water. Let it boil for 5 minutes and strain in a mug. Stir and add 1 tsp of honey before drinking. 
Which drink is good for PCOS? 
If you are not willing to incorporate herbal teas into your daily diet, here are some detox water recipes: 
Fenugreek Water: 
What should I drink in the morning for PCOS? If that's what you are wondering, the answer lies in Fenugreek water. First, soak 1 tsp of fenugreek seeds and cumin seeds overnight. Then in the morning, strain the water and drink it on an empty stomach. This detox water will nourish your cells and help you feel fresh throughout the day. Along with PCOS this detox water is also a great solution to weight loss and insulin resistance. 
Aloe vera: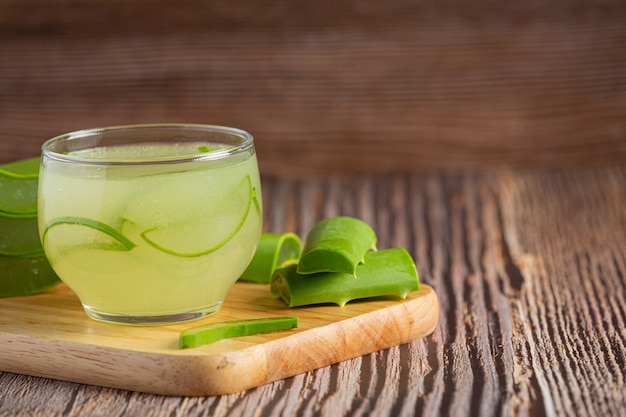 Aloe detox juice is one of the most incredibly hydrating ingredients. It helps detox the digestive tract, reduce inflammation, and increase lubrication in your muscle joints. Aloe vera and lemon water are one of the easiest aloe vera detox drinks.  
-Blend 1 tsp of raw aloe vera gel with half lemon juice and 1 tsp honey in a glass of water. This drink cannot be stored, so you must consume it immediately. 

 

-Another way to have aloe detox juice is mixing 1 tsp of aloe vera gel with a glass of pineapple juice, and adding some chopped cucumbers for refreshments.

 
Apple cider detox drink: 
Apple cider vinegar benefits our skin and health in several ways. This detox drink is easy to make and suitable for most body types. Mix 1 tsp raw and unfiltered apple cider vinegar in a glass of water. Add 1 tsp of organic honey before drinking.