`
&Me Spearmint Tea for Women Wellness, Period Pain, Increasing Metabolism, Weight Management and Improving Immunity (30 Tea Bags, Pack of 1)
Regular price

₹ 660/-

Sale price

₹ 249/-

Unit price

per
Click Here For COD
About the product :

NUTRIENT RICH WITH AYURVEDIC SUPER HERBS: &Me PMS Tea, made with an innovative manufacturing process, is the Worldâ??s 1st fortified tea. It has an unique combination of 6 ancient Ayurvedic herbs (Ashoka, Shatavari, Black Paper, Ginger, Ashwagandha, Turmeric) and 12 micronutrients. These Ayurvedic Herbs are age old remedies for period relief and the micronutrients help balance muscle tone, moods and hormones for Complete period care

FROM A DEDICATED WOMEN'S HEALTH PRODUCTS COMPANY: &Me started 3 years ago, with a vision to understand women's unique health needs across fertility, pregnancy and menopause and develop innovative and natural products to cure from within. We have served 200k+ women in India and now are super excited to launch our new &Me Period Tea

PURE & ENVIRONMENT FRIENDLY: We are committed to deliver 100% natural products hence we do not add any preservatives, artificial colour / flavour. It is also 100% vegetarian and has only trace amounts of Caffeine. In order to keep the aroma and natural flavour of ingredients intact we use Nitrogen filled tea bags

REFRESHING AND DELICIOUS BLEND: Brewing a bag of &Me PMS Tea would transport you to a garden of roses and elevate your mood with a refreshing spearmint rose taste. Spearmint also helps in reducing the androgen level and decreasing the level of free testosterone. We recommend you consume 1-2 tea bags a day (hot or iced) from the start of your PMS (3-5 days before periods) till the end of period cycle to relieve PMS Symptoms

A COMPLETE SOLUTION FOR PERIOD AND PMS CARE: &Me Period Tea supports period pain, lowers abdominal pain, back aches, mood swings, fatigue and period cravings by providing essential Indian Ayurvedic herbs, vitamins and minerals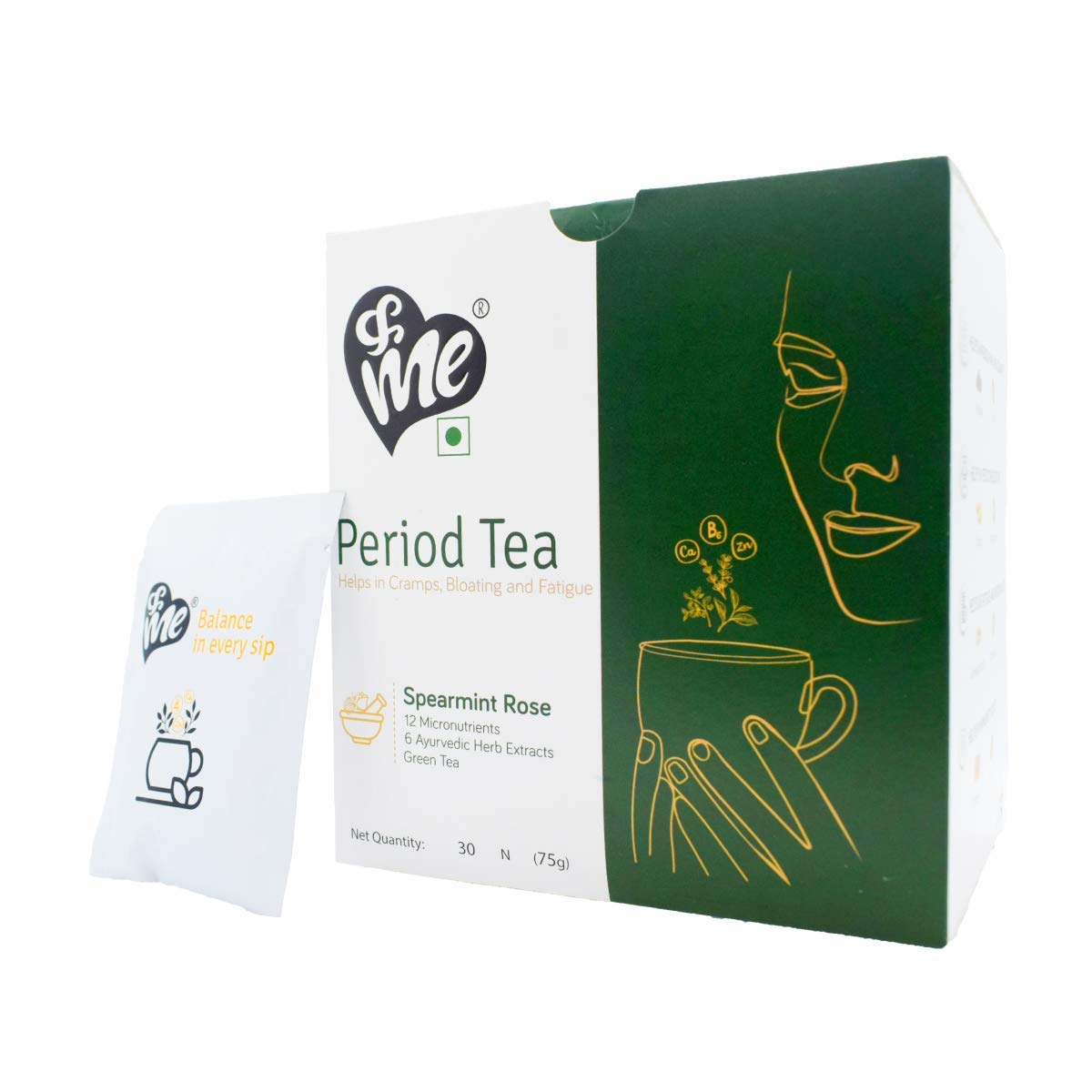 &Me Spearmint Tea for Women Wellness, Period Pain, Increasing Metabolism, Weight Management and Improving Immunity (30 Tea Bags, Pack of 1)
PCOS DRINK IS AMAZING JUST W0W ..
IT'S UNBELIEVABLE THING FOR ME I GOT MY PERIODS IN JUST 4 DAYS AFTER DRINKING THIS PCOS DRINK . YOU GUYS ARE DOING MIRACLE FOR WOMEN'S WHOSE ARE SUFFERING FROM THIS CERTAINS PROBLEMS LIKE PCOS / PCOD OR PERIODS IRREGULARITIES BUT BY THIS PRODUCT I AM SURE THAT YOU GET'S THE RESULT SOONER JUST CONSUME IT DAILY AS PER SCHEDULE. THANKS ALOT TO ANDME ..
Paying gratitude
Got my periods back after 54 days merely by drinking 4 bags of your PCOD tea. Periods are now as regular as it could be. All thanks to you Ridhima and team of andMe. Finally, I came to know of your products only through Shark Tank India Sony TV. Keep serving us.
Question
Will it be OK if I add this powder to my smoothie instead of just adding water to it and drinking ?
Awesome
I am using this drink from more than year now ,it was really gud ,i got my periods on regular basis ,lost some weight ,acne was controlled ,craving as well However this new packaging has some substances which are not disolving in water and also my periods are delayed when I started this new packaging.
---
Product Description
&Me is India's first Women's Health brand. We are aiming to solve for women's needs across period health, beauty and fitness, with a unique combination of Ayurveda and Nutrition Science. With &Me, Self-care – checked!
Natural Period Pain Relief with &Me Happy Period Drink
Hormonal changes in the body during periods affect our physical and psychological states. The muscles around uterus tense up causing period pain in lower abdomen and the back, there is an increase in water retention in the body leading to bloating and reduction in Serotonin in the body that causes mood swings and cravings!
But if your body has all the essential nutrients, you will not experience period discomfort. We strongly believe that our bodies were not meant for period pain and there is a solution within.
Now, popping pills and hot water bags are not solutions for period pain. They bring more harm than good (like gastric irritation/gastritis, liver damage) and give relief from only one symptom (pain). It also makes you dependent on pills!
&Me brings a holistic solution for period care - period pain relief, reduction in bloating, increased energy, improved mood! It is a herbal tea with no side effects!
Now you have a reason to jump during periods!
A Tasty & Effective Period Drink
Delicious flavor of summer fruits - Mango, Orange.

Power of 24 herbs and multivitamins.

Without any preservatives!

83% women see reduction in menstrual cramps.

"Great solution for period care!"
Key benefits of &Me PMS Green Tea - Period Pain Relief
Reduces Period Pain and Menstrual Cramps

Calcium, Shatavari and Vitamin B12

Calcium helps maintain muscle tone, reducing menstrual pain.

Shatavari is source of phytoestrogens and thus, acts as antispasmodic or muscle relaxer on uterine tissue, thereby helping to reduce period pain and cramps.

Vitamin B12 facilitates inhibition of cyclo-oxegenase enzymes and other pain-signaling pathways.

Reduces Bloating

Ginger and Vitamin B6

Ginger possesses carminative effect, decreases pressure on lower esophageal sphincter, reduces intestinal cramping, and prevents dyspepsia (pain in upper abdomen due to indigestion), flatulence (accumulation of gas) and bloating.

Vitamin B6 increases Serotonin and Dopamine levels and thus, improve bloating symptoms.

Boost Mood and Energy

Ashwagandha and Vitamin B3

Ashwagandha is an adaptogen that causes relaxation and increases energy.

Vitamin B3 helps with adequate cellular metabolism and facilitates enzymes for glucose, protein and amino acid metabolism.
---
Detailed Specifications:
| | |
| --- | --- |
| Package Dimensions : | 9.7 X 13.4 X 14.7 Cm; 160 Grams |
| Size : | 30 Count (Pack of 1) |
| Marketed by : | Merhaki Foods & Nutrition Pvt. Ltd. |
| Flavour : | Spearmint Rose |
| Weight : | 160Grams |
| Brand : | & ME |
| Item Length : | 147 cm |
| Cuisine : | Indian |
| Batteries Required : | false |
| Country Of Origin : | India |