`
andMe Women's Protein Combo Plant Based For Weight Management, Hormonal Balance, Metabolism, Skin & Hair, Whey Free(Mango+Chocolate, 500gms each, Pack of 2)
Regular price

₹ 2,998/-

Sale price

₹ 1,424/-

Unit price

per
Click Here For COD
About the product :
PLANT PROTEIN: andMe Women's protein powder has 20 gram of Plant protein (that doesn't cause any bloating like Whey protein), along with 16 Ayurvedic herbs, 14 Vitamins, 7 Minerals, 11 Antioxidants, in 30% of daily quantity for your overall health. Best part = Absolutely NO artificial ingredients.
AMAZING TASTE: andMe Women's protein has the awesome taste with chocolate flavour which is loved by most of the women.
BENEFITS: The first benefit that you will notice is an increase of energy. You will feel strong and will have stamina to go through the day, even with a full day of work, workout and kids! Next you will notice your immunity increasing, you will be less prone to getting common cold and infections. Then you will also see improvements in your hormone cycles, better skin. It's best protein powder for weight loss that to naturally.
HOW TO CONSUME: Add 3-4 scoops to 250ml of water or milk, mix it well and enjoy the shake. It's a Chocolate protein with amazing taste. You can have it during pre or post-workout sessions. Even you can have it in the morning with every breakfast.
NO SIDE EFFECTS: Our products are a combination of Ayurvedic herbs, vitamins, and minerals, fruits, and vegetables, which are natural and hence shouldn't have any side.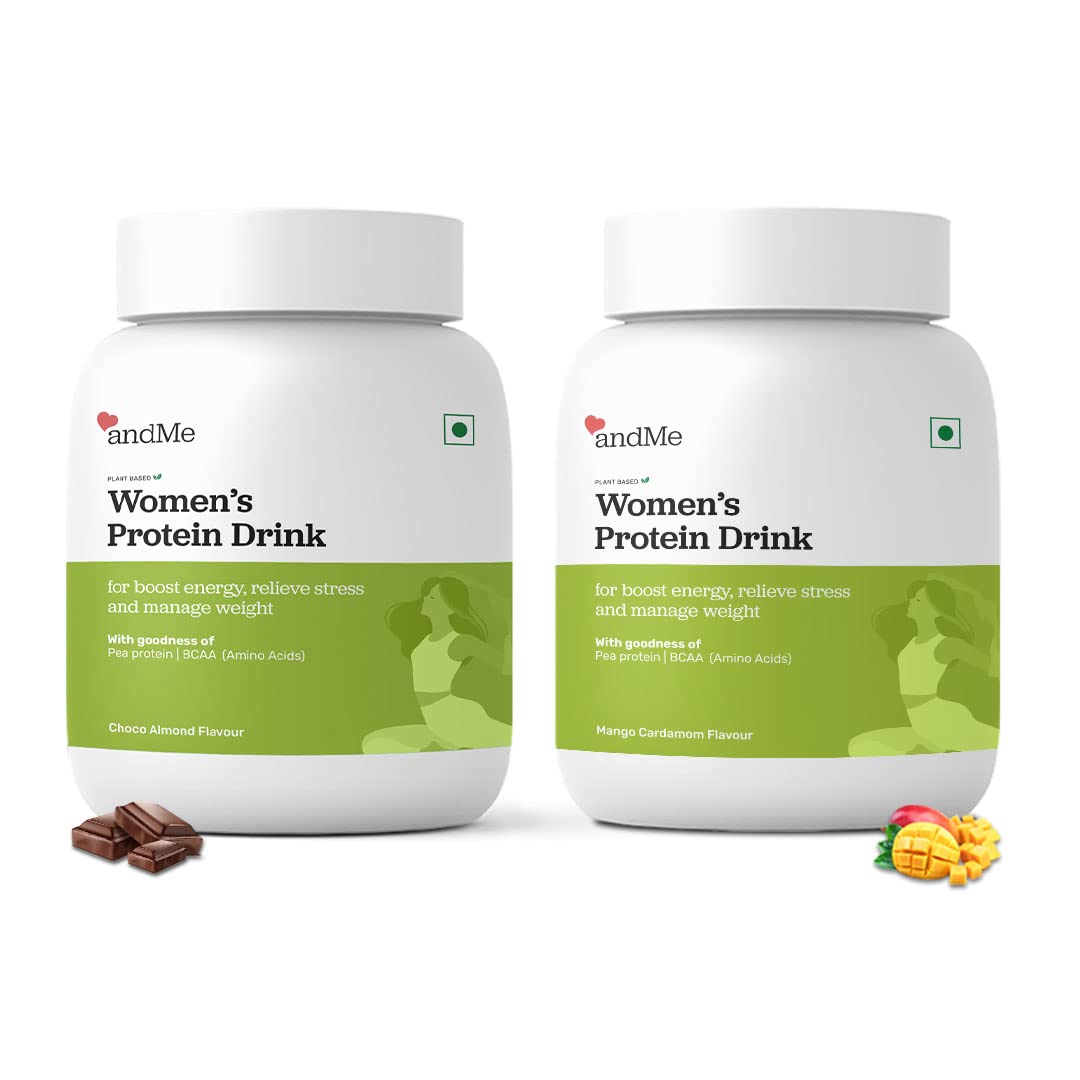 andMe Women's Protein Combo Plant Based For Weight Management, Hormonal Balance, Metabolism, Skin & Hair, Whey Free(Mango+Chocolate, 500gms each, Pack of 2)
Product Description :
andMe Women's Plant Based Protein with 45 Natural Herbs, Multivitamins and Amino Acids, Whey and Soy Free, Chocolate Almond Flavor.Mix one sachet with 100-150 ml water/milk/smoothie.Plant Protein is a holistic protein powder for women which fulfills their 30% requirement of daily nutrition. It is a combination of Natural herbs, Multivitamin and amino acids which gives a perfect balance to your health and keeps your energised. All Natural plant based protein and it has zero added sugar, no preservatives, no soy/whey and is vegan by nature.
---
Detailed Specifications:
| | |
| --- | --- |
| Package Dimensions : | 26 x 34.6 x 14 cm; Grams |
| Manufacturer : | &Me; |
| Marketed by : | Merhaki Foods & Nutrition Pvt. Ltd. |
| Flavour : | Chocolate |
| Weight : | 500Grams |
| Brand : | & ME |
| Item Length : | 12 cm |
| Item Height : | 16.3 cm |
| Ingredients : | Plant Protein, Multivitamin |
| Batteries Required : | false |
| Appropriate Age Range : | Kid |
| Country Of Origin : | India |