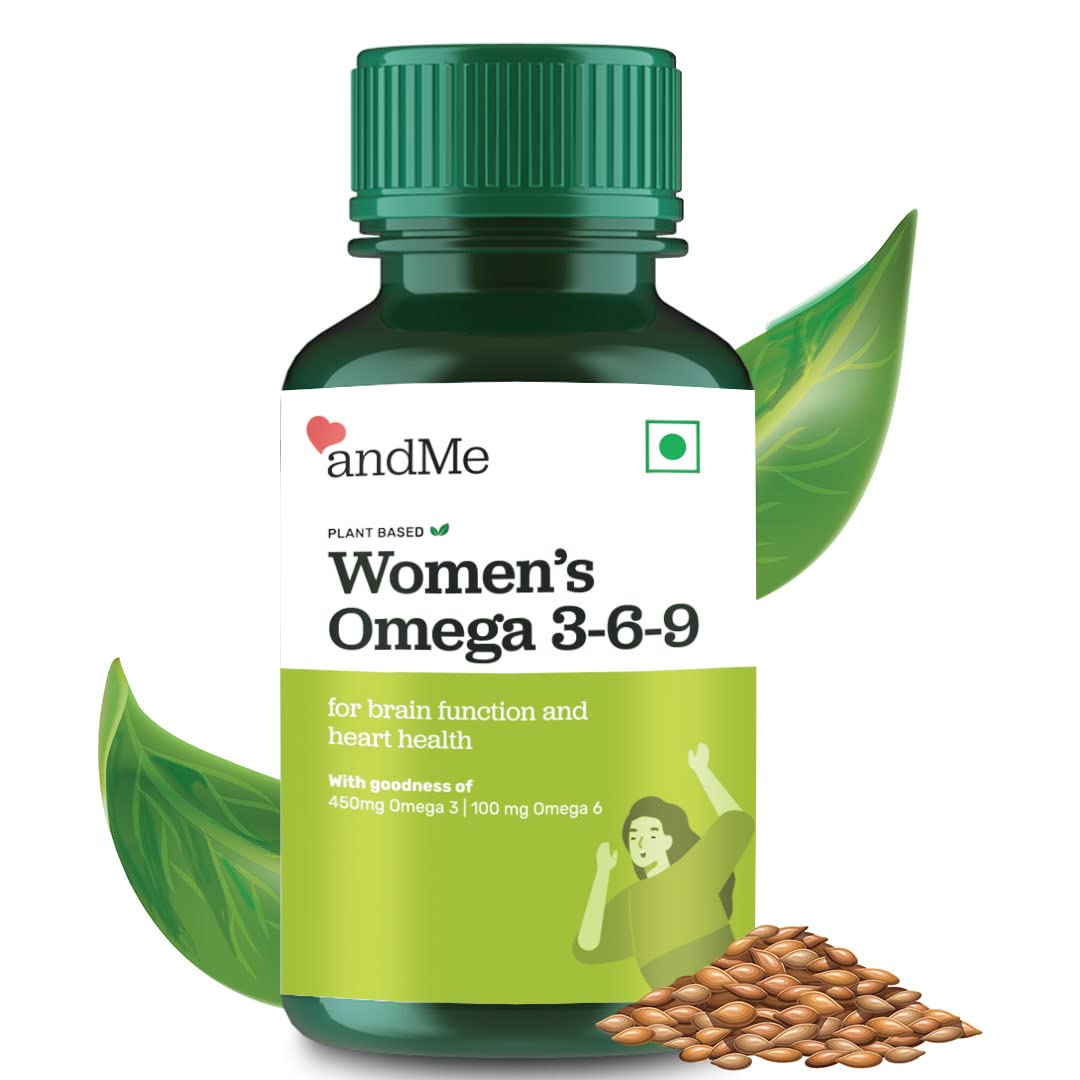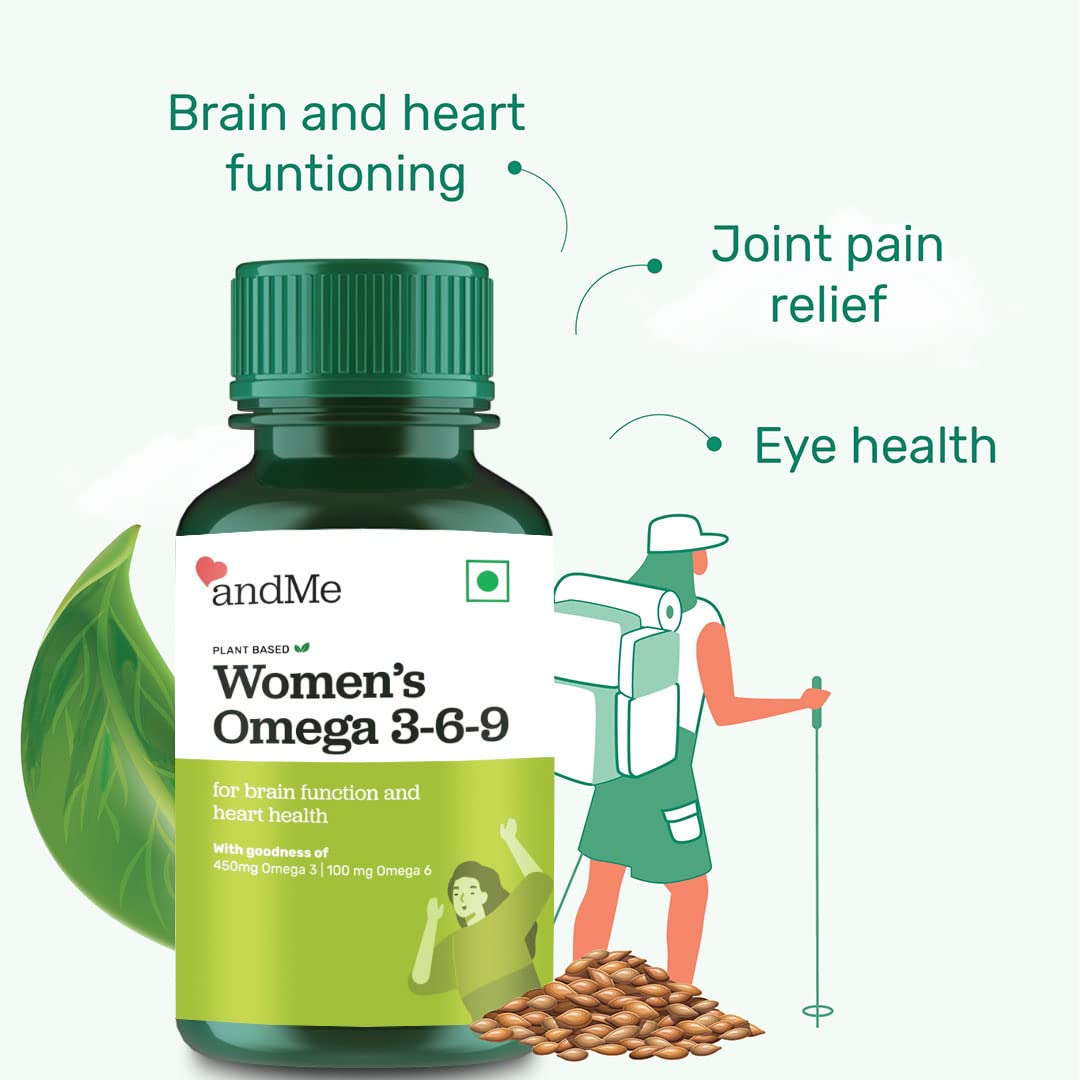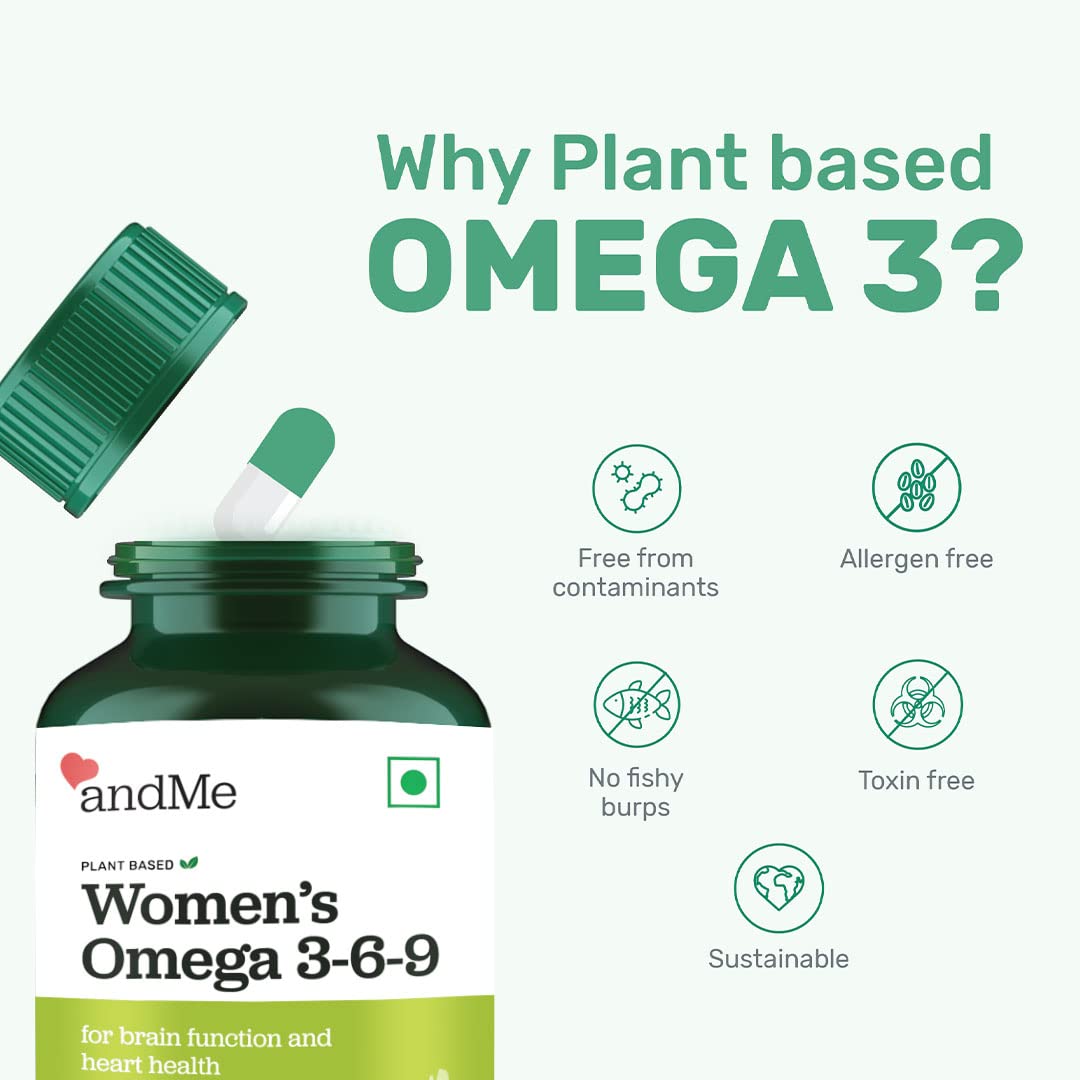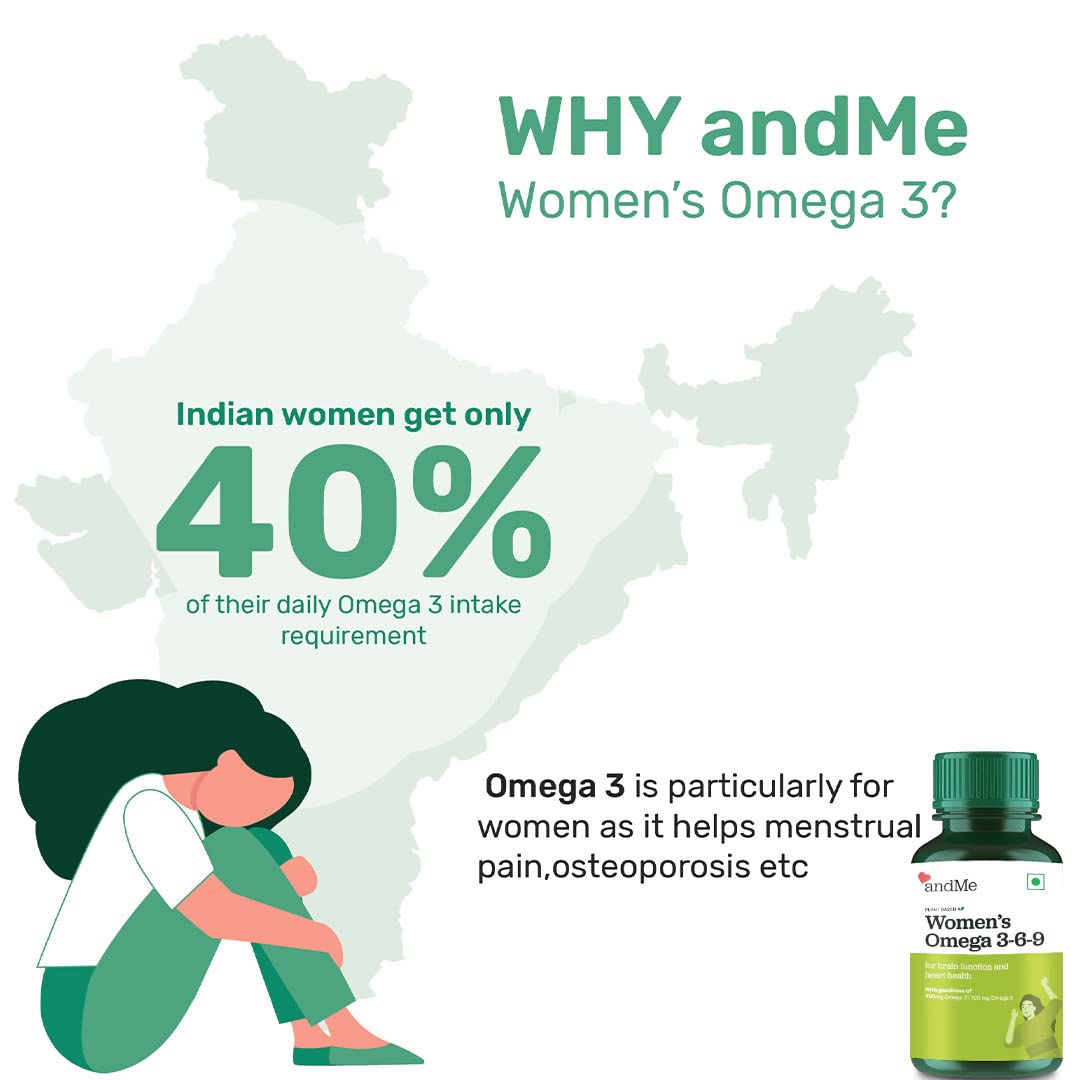 `
andMe Women's Omega-3,6 & 9, Vegan with 450mg Omega 3, 100mg Omega 6, 150gm Omega 9 for Healthy Brain & Heart, Bone & Joint, and Eye, Clinically Researched - 60 capsules
Regular price

₹ 1,199/-

Sale price

₹ 469/-

Unit price

per
Click Here For COD
About the product :
STRONGER BONES & MUSCLES: Each capsule of andMe Vegan Omega-3 contains a balanced level of nutrients that boosts the presence of calcium in your body for strong bones and ensures healthy muscles. It lets you keep moving hassle-free, without any discomfort.
BETTER BRAIN HEALTH: Omega-3 has anti-inflammatory properties and acts as a powerful antioxidant that boosts brain functioning and ensures that the brain cells function efficiently. Moreover, andMe Brain Booster Capsules are formulated using highly potent flaxseed oil loaded with impressive quantities of Omega-3 Fatty Acids.
10X HEALTHY: If you are a vegan who doesn't prefer taking dairy/animal-based products, this is the best supplement for you. With 500mg of Omega-3s, these capsules are far better as they provide you the balanced levels of essential fatty acids for a healthy mind and body.
LESS STRESS, HAPPY MOOD: Apart from taking care of your heart health, Omega-3 helps relieve stress and elevate mood naturally. Packed with rich antioxidants, these naturally effective capsules are sure to make you healthy and happy!
GLUTEN-FREE FORMULA: At andMe, every product is developed finely, keeping in mind the concept of holistic wellness. These capsules are no exception. Devoid of gluten, soy, dairy, fish, shellfish, tree nuts, and harsh chemicals, these capsules are 100% vegan, cruelty-free, and sugar-free formula for all.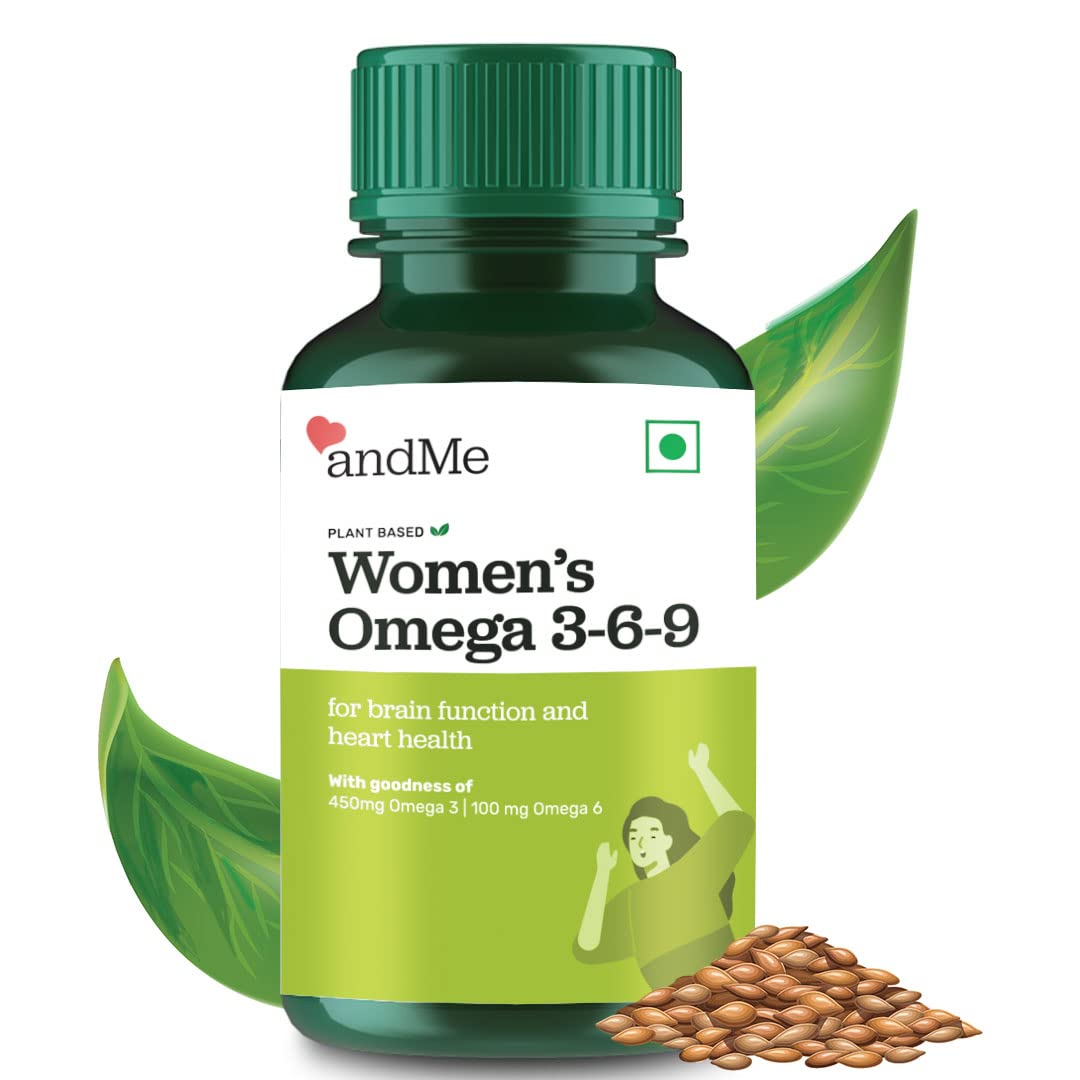 andMe Women's Omega-3,6 & 9, Vegan with 450mg Omega 3, 100mg Omega 6, 150gm Omega 9 for Healthy Brain & Heart, Bone & Joint, and Eye, Clinically Researched - 60 capsules
Good product for vegetarians
Just love it, good for us vegetarians who won't have to eat fish for omega 3 and fatty acids
Amazing product
Thankyou for taking care of me andMe.
Satisfied
Super satisfied, no harmful chemicals all products and ingredients used are super healthy.
---
Product Description
Our Story
We at andMe understand that the Women's body has different nutritional needs because of her unique hormonal cycles. We acknowledge that women are busy and have multiple roles to play, leaving them with little time for themselves. We were pained by the lack of solutions and even lesser lack of healthy solutions for women's health and decided to take a stand. We are building a Women's first, solution-driven, research-led company to serve HER unique needs across menstrual health, fitness, beauty, and mental health. We are bringing convenient, goodness-filled solutions, because the body has the power to Heal. Because She deserves.
| | | | | |
| --- | --- | --- | --- | --- |
| | Women's Multivitamin | Women's Iron | Women's Calcium | Women's Omega |
| Functionality 1 | Helps bones & joints | Boosts haemoglobin | Bone & joint health | Brain & heart functioning |
| Functionality 2 | Helps with skin & hair | Boosts stamina & energy | Tiredness & fatigue | Join pain relief |
| Functionality 3 | Helps with energy & digestion | Boosts antioxidant | Muscle support | Eye health |
| Quantity | 60 vegan capsules | 60 vegan tablets | 60 vegan tablets | 60 vegan capsules |
| Goodness of | 30 whole food extracts | 9 whole food extracts | 21 whole food extracts | 100% flax seed |
---
Detailed Specifications:
| | |
| --- | --- |
| Package Dimensions : | 5.8 x 14.5 x 21.4 cm; 70 Grams |
| Manufacturer : | &Me; |
| Marketed by : | Merhaki Foods & Nutrition Pvt. Ltd. |
| Flavour : | Omega - 3,6,9 |
| Colour : | Multicolour |
| Weight : | 70Grams |
| Brand : | & ME |
| Item Part Number : | 12345 |
| Ingredients : | 100% cold pressed flaxseed extracts which are the source of DHA (docosahexaenoic acid) |
| Dosage Form : | Capsule |
| Batteries Required : | false |
| Appropriate Age Range : | Adult |
| Country Of Origin : | India |